If you want to know if Victoria is worth it and how much time we consider is appropriate to visit the city we have to disappoint you, we do not have concrete answers to these questions. The first days of our stay in Vancouver island did not work out as we though. We did enjoy our time and we took all it happened with a lot of humor. Here is our sum up about how our first days with our rented RV went. You can also find some tips if you are ever renting one 😉
We picked up the RV (a truck camper) and drove our way until the Harbor from Vancouver to take the Ferry to Victoria. In such a big cities like Victoria is always difficult to park and even more difficult to find a place to overnight with an RV if you did not already reserved a lot in a camping. So if you want to stay there for a couple of days and enjoy the city just book one. If we had stayed every night in a camping it would cost us 30$ (Canadian Dollar) per night, or even more. We wanted to save some money, so we avoid big cities and try to find places where we do not bother anyone and we can overnight there.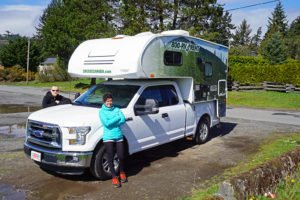 Why did not everything worked out as we though at the first days? So, we did the beginner mistake. When we picked up the RV we did not check everything from ourselves. We led the young lady explain everything to us and she showed us how some things works (like heating, water pump,…) We did not check the things she already checked because we thought when she already checked it with us, why lose more time. The first evening we tried to get some water from the tap. We turned the water pump on and waited. It started to make some noise and that is all it did: noise. No water was running. We thought we were doing something wrong, so we wanted to try it again the next morning.
The next day, we tried again, but nothing happened. Still no water running. We went to Victoria in order to call the traveler's assistance. The answer was loud and clear: the water pump needed to be replaced. We spend the afternoon waiting for a call in order to have an address where we have to bring the RV to be repaired. It was not so easy as we thought, at the end we needed to call again the next morning and they called back with an address. We waited 2 hours in the rain for the water pump to we replaced. So, we missed almost 2 days of our journey in order to have tap water. Buuuuut, we were ready to go! Everything was working and we could, finally, drive our way into the west coast from Vancouver Island.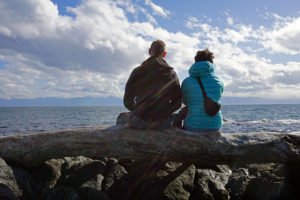 So as we said above, we were just one day in Victoria and we did not see as much as we wanted. After calling the company we discovered around the corner the Parliament of British Columbia, a majestic and beautiful building. We were not in the best mood because we were worried about how we will have to manage the water pump situation. So, we decided to go for a walk near the see to clear our heads. We walk along the beach until we reach the Bacon Hill Park. The view from the park is really beautiful. The park is so big and full with animals. We definitely recommend to go for a walk in this park, you will not regret it! We walked a little bit through the city but we did not see enough to recommend you something concrete. Somehow we land every time in Chinatown, as we landed there we decided to cheer us up with some asian food.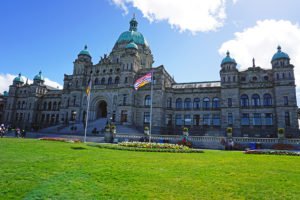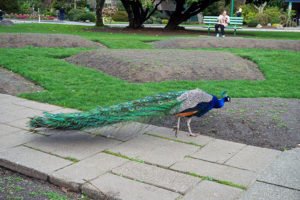 We just put together some tips for you if you are renting any RV (and it is your first time):
Be smarter than us, just check EVERYTHING for yourselves! Even if that sounds boring and as a waste of time, believe us, it will save you precious time! 😉

If you are getting a bed kit with sheets and blankets, just check that it will be enough for your trip. It was not so warm when we rent the RV and we just froze the first nights until we bought some more blankets.

We slept in some parking lots from Provincial Parks. That is a huge advantage when you are not traveling during the peak season. You are not really allowed to overnight there, but you can always ask the ranger there an ask if you can overnight there for one night. If it is just for a night sometimes works. Just ask and be polite and friendly. Sometimes works and sometimes not.
To sum up everything, Victoria is a beautiful city. In the way with the ferry from Vancouver to Victoria you will be delight with amazing views. Vancouver is the most known city of British Columbia, but Victoria is actually the capital. And just to mention it again: if you ever rent a RV, check everything before you start your journey 🙂
If you have some tips or beautiful places in British Columbia just let us know in the comments 🙂