Vancouver is a big and great city. There is a lot to see and to do there. After our stay there we put together the places we recommend the most. Maybe you already know the most famous ones, that's why we included also some less known places also in our list. We hope you enjoy it. Feel free to let us know if you have any recommendations!

Kitsilano and Kitsilano Beach
Our accommodation was in Kitsilano. That allowed us to discover this wonderful neighborhood and beach of Vancouver. For us was a perfect place to be. We had everything in a walking distance. We also loved the neighborhood. What we loved the most? The parks in the area and the multiple possibilities to practice sports. There are a lot of people playing and practicing there. So we felt motivated to exercise and kind of cozy as no one was staring at us.
The big surprise was when we discovered the Kitsilano Beach. What an amazing place! Sports courts everywhere: tennis, basketball, volleyball nets… The beach was crowded. The view from the English Bay Beach, the center of Vancouver and also the mountains at the back was impressive. It's hard to say exactly why, but it's a place we totally recommend when visiting Vancouver!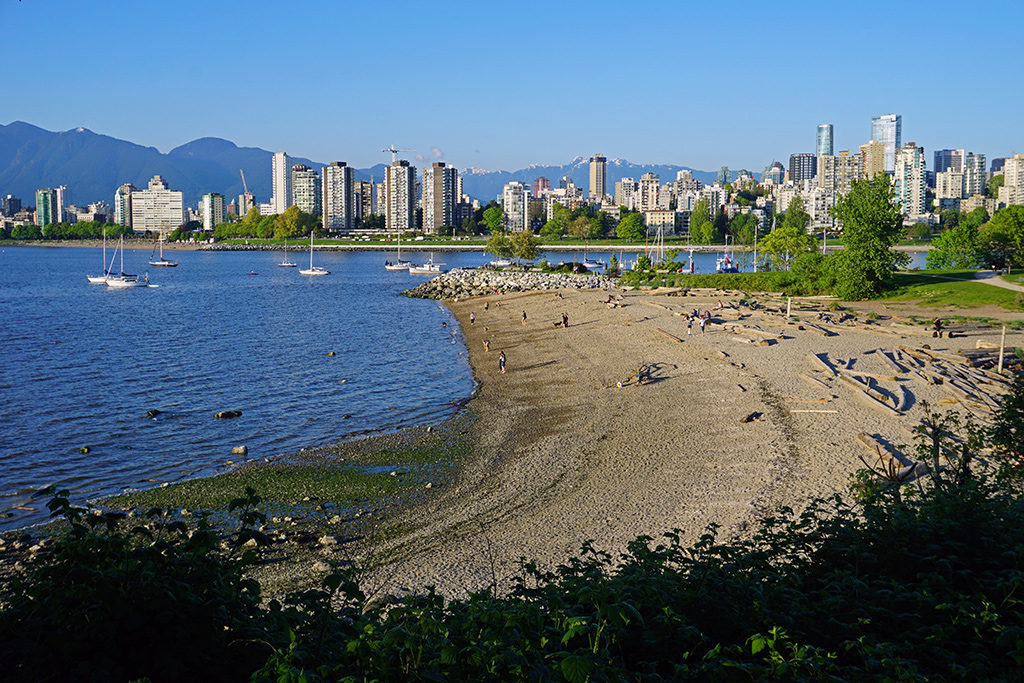 English Bay Beach
This beach is really near from the downtown and also Stanley Park. Normally, is the place where tourists and also young people hang out. It's a beautiful place to take a break if you are around the city center. Do not miss the sunsets there, it is the best place to go! We really enjoyed to be there in the evening and just sit next to each other and watch the sun disappears into the pacific ocean. For sure one of the best experiences!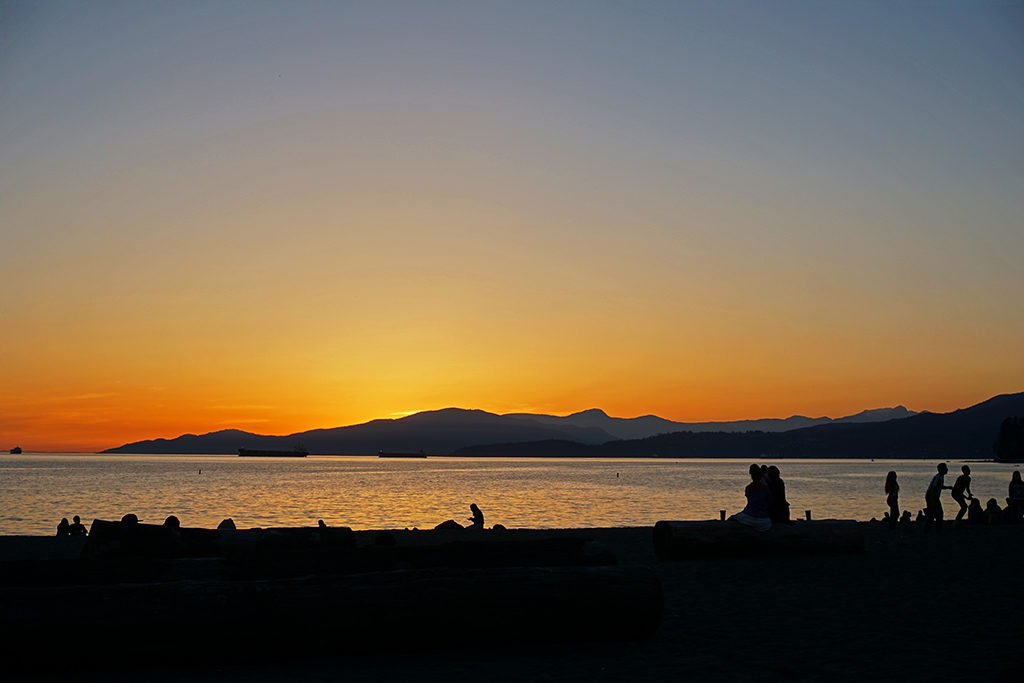 Stanley Park
One of the most impressive city parks of the world. We felt in love with it. You can just grab some food and go there for a picnic. It's a great place to go for a walk or for a ride. And it's also a great place for runners! We had a walk there and also went for a ride with the bike. The park is big, really big. That's why if you rent a bicycle it is easier to see more of it.
Just be smarter than us: the bikeway in Stanley park has not two directions. That means that is better if you do not start the ride in the English Bay Beach. You can start at Devonian Harbour Park and you will end it in English Bay Beach. We learned it the hard way, so do not do the same mistake like us! It is really impossible to ride the other way around. The paths near the lake are also really beautiful. If you do not feel like going for a ride, just go there and start walking and enjoy it 🙂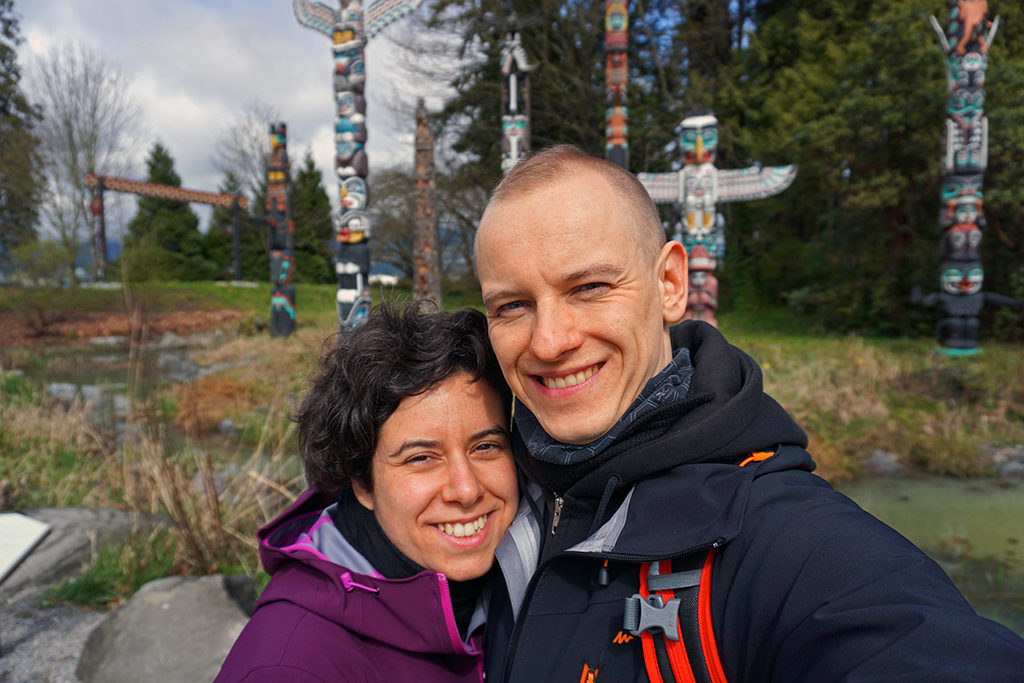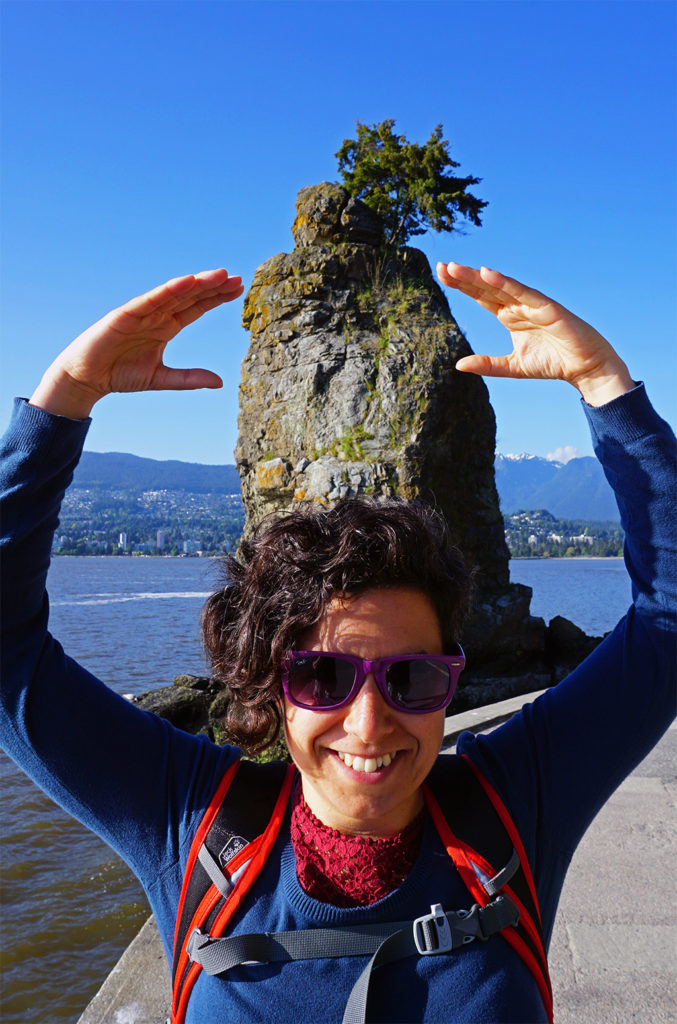 Granville Island
This Island is the artist's place. Normally there is always, or almost always, something going on here (especially on the summer and weekends). There are a lot of places where you can buy some handcrafts. You will find also a place where you can see how glassblowing works. There are also various photo gallery and art gallery. We loved to visit the photo galleries. Most of them have photos from Canada. So we started to play a game: we tried to recognize the places in Canada where we had been. It was so an amazing and strange feeling. We were actually there, it was not something that we have seen in some documentary. Just a great feeling. There is also a market where you can by anything to eat and there is a wide variety of options. (Photo: Granville Island is on the right side)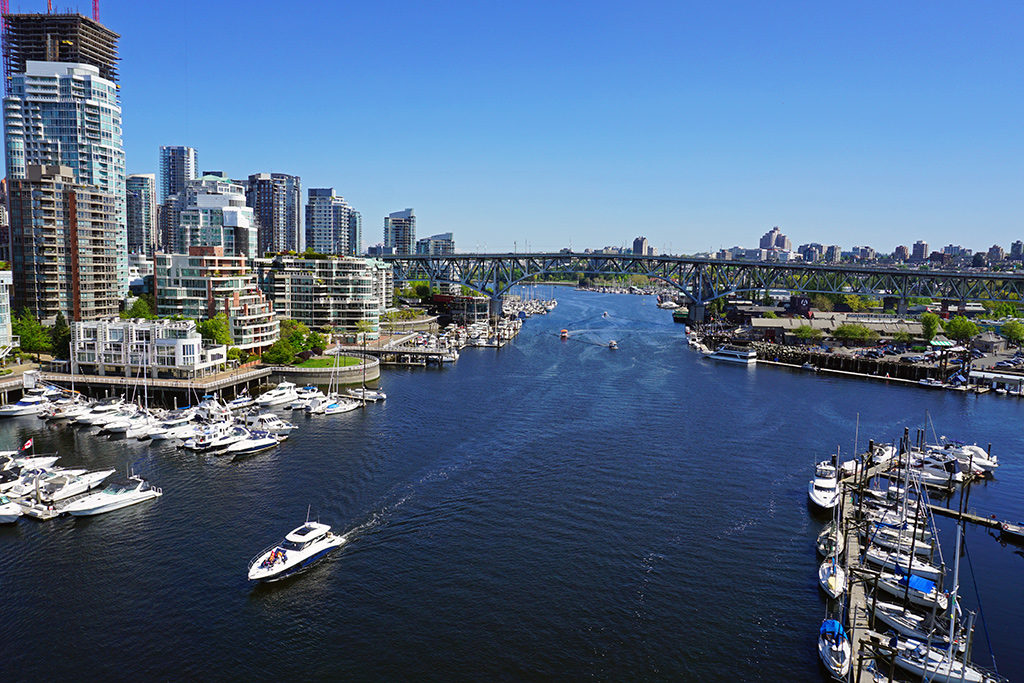 Gastown
We know is a typical place to go when you are in Vancouver. Although, we didn't find it so impressive. The most known place is the clock. The peculiarity of the clock is that it works with steam. Which, yes, it's an uncommon thing. But, like I said, it was not such a wonderful place for us. This area has also a lot of bars and clubs to go for a drink. We can't recommend you any of them because it was far above our budget. So we bought some beers and drunk it at home 🙂
We also do not have a great foto of this part of the city. Sorry, we went there and move on quite fast.

Downtown and the harbor
Vancouver has a huge harbor. We were walking through the harbor next to Waterfront, just in front of the Tourism Information. The place is direct near the water and hat great views of the north of the city. It was a cloudy day, but even so it was worth it. The view of the other side of the city is wonderful.
After that, we went to downtown. It was the first time we visited a center of a big city in North America. We were a little bit disappointed. We were looking for old buildings and the historic center of the city. Instead, we found huge buildings hosting big companies and banks. It was not ugly, actually, it was really fancy. It's just not what we were expecting. But that is how it works while traveling and so is how we like it. Downtown is perfect for shopping. But since shopping is not our thing, we get bored quite easy and moved on to the beach.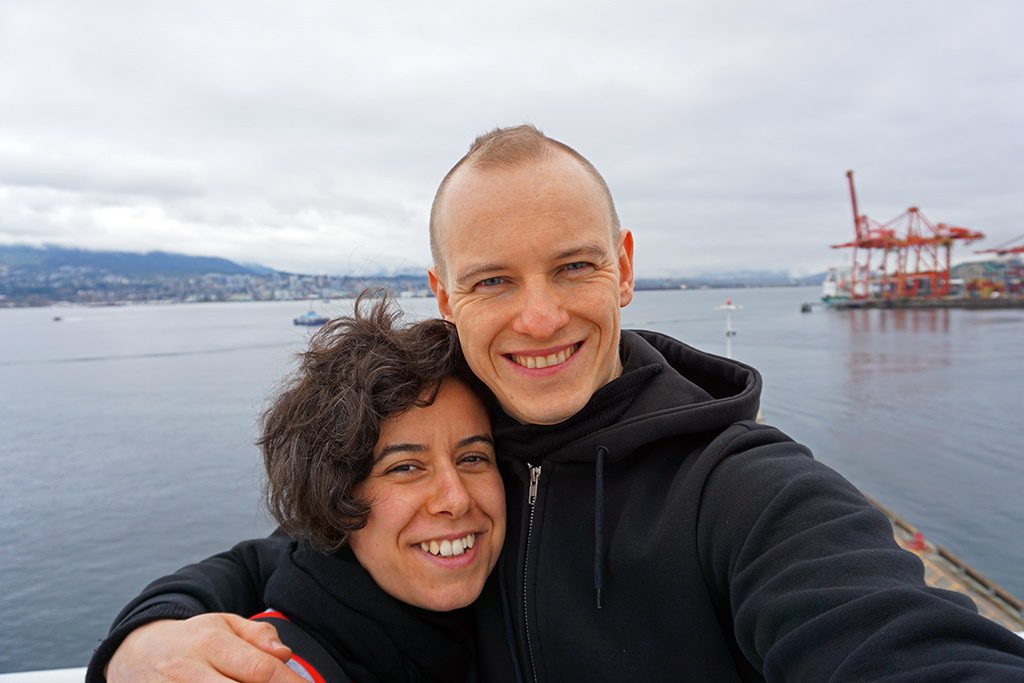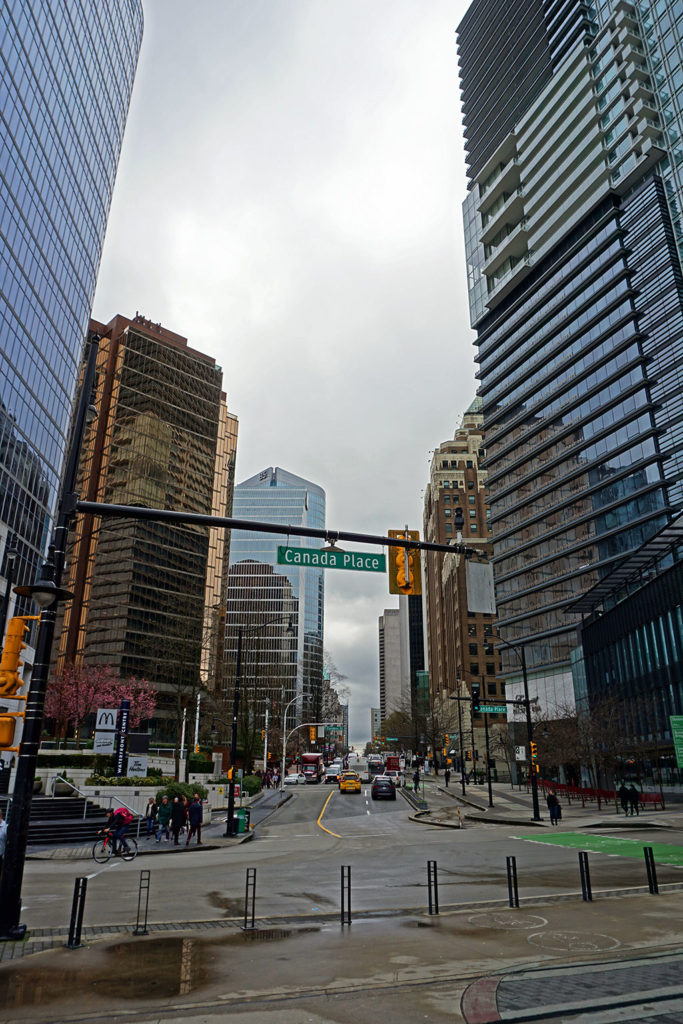 Lynn Canyon
It was our last hiking tour in Vancouver. We just wanted to discover some place on the other side of the city and our Couchsurfing host just recommended it to us. There is a suspension bridge there and a plenty of paths to hike around. It's not so easy to go there, depends on the part of the city you are living. Just check in advance how to get there.
The suspension bridge is beautiful. The only problem is trying to get a picture of the bridge and you without no one else! It's quite crowded and you have to wait a lot or you need to go there really early in the morning. But, it's just crowded around the bridge, if you want to hike a little bit you will realize that there are less people around. The park is wonderful and you forget for a bit that you are so near from the big city. The river through the area adds some charm to this park. We really enjoyed going down by the river and sit down and relax.